Water Project, El Corozo, Nicaragua
Sponsored by Stillwater Sunrise Rotary, and working with the district 5960 LIFT program, this project establishes a well (750 ft. deep), a water tank, and plumbing to bring a spigot to over 120 families. Funding comes from The Rotary Foundation, Rotary District 5960 and our club.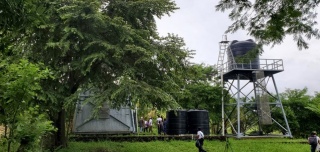 Each spigot is metered, and each household pays for the water they use, as managed by their Community Water Governance Board. This "cost of water" provides the much needed funds to pay for the power for the pump, maintenance and repairs, providing sustainability for the system. While poor, the village can pay for this valued resource, and are proud to do so.

Our entire Rotary District 5960 has been working with this village for 8 years now with the goal of eliminating poverty through building leadership, economic and social capacity around community structure. This community structure is now in place, and this water project represents much success for the entire village.
---
Update
9/11/23 - We got word that the project engineer has returned to the project, and that the final system leg has been installed! Recall that one part of the system had to be delayed due to cost increases, and when the project engineer had to return to other scheduled projects. We're delighted that these issues have been overcome, and the complete system is now done!
---
Water Testing and Pump House Completed
10/1/22 - The water project in El Corozo, Nicaragua made great progress during October.

The community has really stepped up to help the project move forward. It makes us smile when we see the photos and watch the short videos showing the involvement of the community members.


Our hope is that the distribution system from the well to the homes will be completed by early December. But we do have to remember that it is Nicaragua and things often do move more slowly that we would like them to.

But what a great Christmas gift to have families able to access clean, potable water at their homes!